Ceramic PCB Manufacturing
We use a PCB Design for Manufacturability (DFM) process to ensure your ceramic PCB can be easily and successfully manufactured to your product specifications and quality expectations. Improved manufacturing design helps you save on costs, increase your PCB's compliance and safety, speed up your time-to-market and improve customer satisfaction.
Our expert staff is ready to help you receive the best ceramic PCB for your products. When you work with us, you can be confident our staff cares about your needs and has the experience necessary to deliver high-quality results.
We have a PCB quality assurance policy in place to ensure you only receive premium quality boards. Our Quality Control Team monitors every stage of ceramic PCB production to make sure we meet our customer's requirements and industry standards.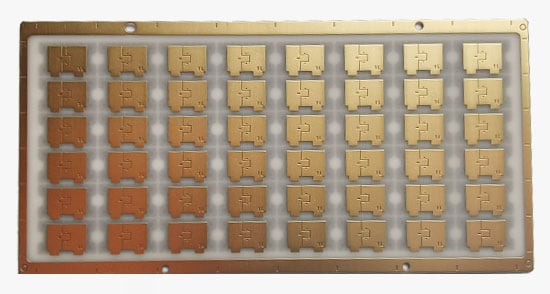 Benefits of Ceramic PCB
Besides its enviable thermal properties and low CTE, ceramic PCBs come with a few other benefits. Review some of their advantages below:
1. Safe operation in temperatures up to 350 degrees Celsius
2. Simple implementation of high-density circuit tracing
3. Exceptional high-frequency performance
4. Versatile packaging, with an option to come in hermetic packages to prevent water absorption
5. Tough chemical erosion resistance
Another ceramic PCB advantage is a lower overall system cost, which can be especially cost-effective for dense packages, since you have parallel processing of layers.
Uses of Ceramic PCB
Industries that need higher-frequency connections and good heat resistance can benefit from ceramic PCBs. Top industries that ceramic PCBs can serve include:
1. Aerospace
2. Automotive
3. Medical devices
4. Heavy machinery
5. Electronics
Ceramic PCBs can be useful and efficient for printed circuit boards in these and many other industries, depending upon your design and manufacturing needs.
Our Capabilities
Ceramic Printed circuit board includes Alumina (Al2O3) PCB, Aluminum Nitride (AIN) PCB, by their high pressure, high insulation, high frequency, and high-temperature performance, we can build according to your every application.
When choosing a PCB fabricator, think about cost optimization, material usage, delivery time, and more. Unitepcb is your go-to partner as we follow the latest IPC standards and tolerances and DFM rules to better suit your next upcoming Ceramic PCB design.
Video of our PCB products
Multilayer PCB Fabrication Services
Unitepcb is a pioneer manufacturer of multilayer PCBs, and we have extensive experience with customers using these boards across multiple applications and industries. We can ensure that your boards are built to the tightest of standards, whether you need a simple epoxy glass support or want to move into the exotic with Teflons or ceramics.
We are equipped with start-of-art manufacturing facility that can cater to the most complex multilayer PCB fabrication service. Besides our team of experts is equipped with the necessary expertise and industry best practices; ensure that you do not have to contend with costly errors for any kind of multilayer PCB fabrication services. Our portfolio of satisfied clients stands as the biggest testimony to our superior knowledge and craftsmanship.
With PCB design playing a vital role in its performance, you can count on us for efficient designs that ensure easy manufacturability as also reliability. Incorporating aspects such as signal and power integrity, our expert designers ensure that even the most complex designs are seamless.
We are known to handle the most complex boards with dexterity. Our multilayered boards can be designed using blind and buried views as well as plated through holes. The fact that we design boards without any restriction on the number of pieces makes sure that all your requirements are taken care of.
Moreover, we're proud to back up our highly competitive pricing with our unique satisfaction guarantee. As our established industry reputation attests, we'll get the job done right the first time, every time. Contact us by phone, fax or email to discuss any aspect of a PCB design and production job with a member of our team. Alternatively, you can submit your project outline directly to us for a free quote.
TECHNICAL SPECIFICATIONS
Ceramic Substrate Material, Thermal Conductivity
| | |
| --- | --- |
| Feature | Parameters |
| Aluminum Nitride | 150–180 W/MK |
| Aluminum Oxide | 18-36 W/MK |
| Beryllium Oxide | 184-300 W/MK |
| Boron Nitride | 15–600 W/MK |
| Silicon Carbide | 70-210 W/MK |