A High-Frequency PCB Requires the Use of Specialized Materials & RF PCB Fabrication
Special materials are required to achieve the high frequency provided by this type of printed circuit board – any changes in the ER value of these materials can affect the impedance of the board. Many PCB designers turn to Rogers dielectric material for its lower dielectric loss, reduced signal loss, lower cost of circuit fabrication, and better suitability for fast-turnaround prototyping applications.
Apart from choosing the appropriate PCB material and determining the correct value of the ER, designers should take parameters such as conductor width and spacing, substrate constant into consideration. These parameters must be exactly specified and implemented with the highest level of process control.
Unitepcb is a High-Frequency PCB Manufacturer, superior-performing high-frequency PCB, radio frequency PCB fabrication, and Microwave PCB fabrication services. We manufacture high-frequency PCBs with frequency typically in the range from 500MHz to 2GHz. The following table shows some of our common-use materials for High-Frequency PCBs manufacturing.
RO3003, RO3003G2, RO3006, RO3010, RO3035, RO3202, RO3203,RO3203, RO3206, RO3210, RO3730, RO5780, RO5780, RO5880, RO6002, RO6006, RO4003C, RO4323, RO4233, RO4360, RO4360G2, RO4400, RO4500, RO4533, RO4535, RO4700, RO4730, RO4830, RO4835T, RT5880, RT5870, RT6006, RT6010, ISOLA, M6, Isola 370HR, Isola IS680-300, Isola FR406, Isola IS620i, Isola FR408HR, Isola IS410, Isola P95/P25, Isola GreenSpeed,Isola P96/P26, Isola GETEK, Isola G200, Taconic PCB material, Teflon PCB meterial, Al2O3 ceramics bare PCB, ceramic substrates….And other.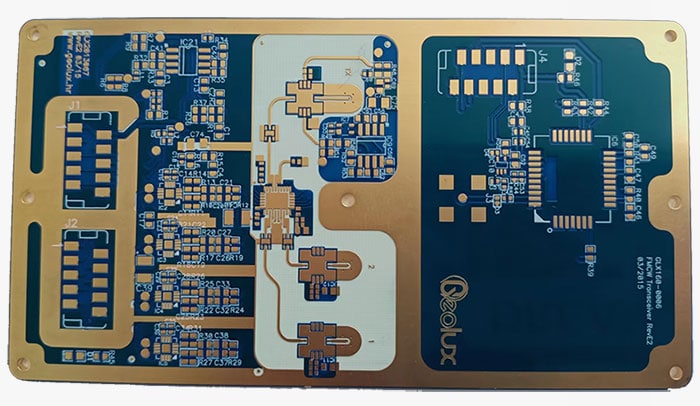 Benefits of High-Frequency PCB
A high-frequency circuit board is known for its quick signal flow rates as also its frequency range of up to 100 GHz. Some of the characteristics of High-Frequency PCBs include:
• The dissipation factor of High-Frequency PCBs is typically between 0.0019 and 0.025. This means that the signal transmission rate isn't impacted and that signal transmission loss is minimized.
• Once again on account of a low dielectric constant there is less signal delay and also higher rate of frequency emission.
• High-Frequency PCBs are known for their high chemical resistance. This makes them less susceptible to corrosion.
• With its low moisture absorption such boards are ideally suited for use in humid environments.
• With low dimensional stability, such PCBs are suited to be used in environments with high temperatures.
Some of the other advantages of high-frequency circuit boards offer, include:
• They enable designers to achieve improved signals, and high functional density in small size and at reduced costs.
• They are also provided with ground plane and help reduce emissions of electromagnetic waves and maintain signal quality.
Now, if you want high-quality radio frequency PCB, microwave PCB, and high-frequency PCB, please contact us for innovative and advanced solutions for your PCB requirements.
Applications of High-Frequency PCB
High-frequency PCBs find their requirement in radio frequency, microwave, mobile, and satellite applications. With the increasing complexity of electronic circuits and fast data transmission rates, high-frequency PCBs are the preferred choice for developing products.
1. Advanced communication systems in industrial, medical, and defense applications requires high-frequency PCB.
2. High-frequency PCBs are a perfect choice for satellites, airborne, and ground-based radar systems.
3. Cell phones, GPS receivers, and RF remote control use high-frequency PCBs for better signal transmission.
Microwave PCB & Radio frequency PCB(RF PCB) definition
Microwave PCB
The PCB industry defines an RF circuit board as any high-frequency PCB operating above 100MHz.
Anything above 2GHz in the radio frequency class is a microwave PCB.
Radio Frequency PCB(RF PCB)
The radio frequency at which they operate is the main difference between RF Circuit Boards and Microwave PCB. Microwave PCB can be classified as any RF circuit board operating at or above 2GHz.
Microwave PCBs and RF Boards in Common
Radio-frequency circuit boards and microwave PCBs are needed to transmit and receive radio signals. Some common applications include radar installations and cell phones.
Common Problems and Solutions for Microwave PCB and RF Circuits Board
Microwave PCB and RF circuit boards are more difficult than traditional PCB layouts. Because of the potential problems in transmitting and receiving radio signals, this is a problem. Noise sensitivity and tighter tolerances for impedance are two of the most significant problems.
Radio and microwave signals have a much higher level of noise sensitivity than traditional circuit boards and require tighter impedance tolerances. Ground plans are the best way to solve these problems. These solutions will allow the RF/Microwave PCB to have the best performance.
Applications for RF Boards
There are many applications for RF boards, such as wireless technology, sensors, robotics, security, and smart phones. With technological innovation, the demand for RF boards is increasing in the future.
It is crucial to find a competent RF PCB manufacturer or Microwave PCB factory to ensure that the boards are manufactured to high-quality standards. Our reputation speaks for us. We are known for bringing the most complex layout ideas to life.
Video of Our PCB Products
Video of Our PCB Production and Processing
Multilayer PCB Fabrication Services
Unitepcb is a pioneer manufacturer of multilayer PCBs, and we have extensive experience with customers using these boards across multiple applications and industries. We can ensure that your boards are built to the tightest of standards, whether you need a simple epoxy glass support or want to move into the exotic with Teflon or ceramics.
We are equipped with start-of-art manufacturing facility that can cater to the most complex multilayer PCB fabrication service. Besides our team of experts is equipped with the necessary expertise and industry best practices; to ensure that you do not have to contend with costly errors for any kind of multilayer PCB fabrication services. Our portfolio of satisfied clients stands as the biggest testimony to our superior knowledge and craftsmanship.
With PCB design playing a vital role in its performance, you can count on us for efficient designs that ensure easy manufacturability as also reliability. Incorporating aspects such as signal and power integrity, our expert designers ensure that even the most complex designs are seamless.
We are known to handle the most complex boards with dexterity. Our multilayered boards can be designed using blind and buried views as well as plated through holes. The fact that we design boards without any restriction on the number of pieces makes sure that all your requirements are taken care of.
Moreover, we're proud to back up our highly competitive pricing with our unique satisfaction guarantee. As our established industry reputation attests, we'll get the job done right the first time, every time. Contact us by phone, fax or email to discuss any aspect of a PCB design and production job with a member of our team. Alternatively, you can submit your project outline directly to us for a free quote.
TECHNICAL SPECIFICATIONS
| | |
| --- | --- |
| Feature | Parameters |
| Layers Count | 2-20 |
| Laminate | Rogers RO5880, RO5870, RO3003, RO4003C, RO4350B, Arlon 25N/25FR, Taconic TLG, ISOLA MT40, ISOLA MT77 |
| Specialty | Controlled impedance, hybrid build, stacked microvias |
| Dielectric Thickness | 0.1mm-30mm |
| Copper weights (finished) | 1/2 to 2 OZ |
| Minimum track and space | 0.075mm/0.075mm |
| Maximum dimensions | 580mm x 1010mm |
| Surface Finishes | HASL, OSP, ENIG, Immersion Tin, Immersion silver |
| Back drilling | ≤16mil |