Multilayer Flexible FPC PCB Manufacturing
As an industry leader in PCB fabrication, we can offer flexible PCB fabrication, with extremely dense and high layer counts, conformal coatings, and the potting process and complete mechanical assembly fixtures and fixtures for functional or circuit testing turnkey, consignment, mixed model or other requirements of customers. Printed circuit boards from our company are chosen by a variety of industries for their reliability and flexibility!
In addition to blind and buried vias, we can also design multilayered boards with plated through holes. At Unitepcb, we also offer advanced flexible PCBs that may include a high layers count and large size panel size flexible PCBs with controlled impedance microvias, and much more, according to your any kind of specific requirements.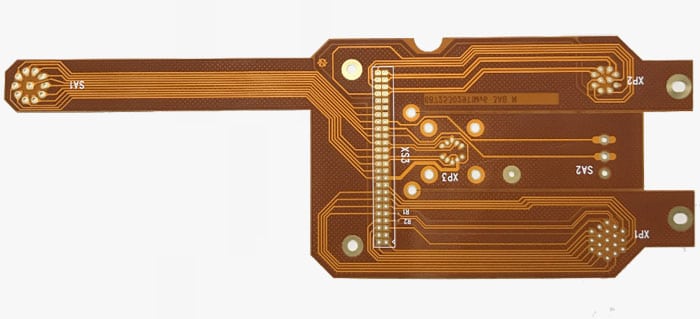 Design Considerations for Multilayer Flexible PCB
When it comes to designing multilayer flexible PCBs, there are a few key considerations that need to be taken into account.
1. The number of layers required will impact the overall flexibility of the board. More layers will result in a stiffer board, so it's important to strike the right balance between flexibility and durability.
2. The thickness of the individual layers also needs to be considered. thicker layers will add strength but will also reduce flexibility.
3. The type of material used for the layers also needs to be taken into account. Different materials have different properties that can impact the overall performance of the PCB.
With all these factors to consider, it's important to work with an experienced PCB manufacturer who can help you design a multilayer flexible PCB that meets your specific requirements.
Advantages of flexible PCBs
Flexible PCBs have a number of advantages over traditional rigid boards. They are more resistant to vibration and shock, making them ideal for use in applications where mechanical strength is important. Flexible PCBs are also lighter and thinner than their rigid counterparts, making them easier to fit into tight spaces. Additionally, flexible PCBs offer a higher degree of design flexibility, allowing for the creation of unique shapes that can't be achieved with a rigid board. Finally, flexible PCBs are less expensive to manufacture than rigid boards, making them an attractive option for cost-conscious consumers.
Disadvantages of flexible PCBs
While flexible PCBs offer a number of advantages over traditional rigid boards, there are also some potential disadvantages to consider. One issue is that flexing can cause cracking and breaking of the circuit traces, which can lead to reliability issues. In addition, the use of flexible substrates typically involves a trade-off between flexibility and thermal conductivity, which means that flexible PCBs are not always the best choice for applications that require high levels of heat dissipation. Finally, the manufacturing process for flexible PCBs can be more complex and expensive than for traditional rigid boards. As a result, it is important to carefully consider all of the trade-offs before deciding whether or not to use flexible PCBs in a given application.
Applications Of Multilayer Flexible PCB
Multilayer flexible PCBs are used for a variety of applications. Some of the most commonly used are:
1. Consumer electronic devices: Smartphones and e-readers, as well as tablet computers and GPS units, are just a handful of the numerous electronic consumer products that usually utilize multilayer PCBs that are flexible. Multilayer flexible circuits can be used in high-end printers, laptops, desktop computers, and digital cameras.
2. Industrial equipment: Multilayer flexible PCBs can be widely used to make industrial machines. It includes devices for medical use and power generation equipment, factories automation hardware, and devices for traffic management.
3. Automotive components: include everything from HVsAC and infotainment system. Flexible multilayer circuits can be found in numerous automotive parts.
4. Military/Aerospace products: Products from the aerospace and military industries usually depend on multilayer circuits with flexible designs. They are present in many products, ranging from communications equipment to wearable electronic and aviation electronics systems.
5. Other applications: Multilayer flexible circuits are used in the construction of robots, industrial machines, buoys, and renewable energy products.
Our Capabilities
As we are a PCB manufacturer. We specialize in the production and installation of flexible PCB products that are used in the manufacture of medical devices, as well as other kinds of industrial and telecommunication equipment. Our capabilities for custom PCB manufacturing permit us to create and manufacture a high-performance flexible PCB that is designed to meet your specific requirements. We are also able to assist you in creating a custom prototype of a flex PCB that can greatly increase your chances of a successful outcome for your project.
Why Turn To UnitePCB for Multilayer Flexible PCBs?
When it comes to printed circuit boards (PCBs), more and more businesses are turning to flexible multilayer PCBs over traditional rigid boards. The main reason for this is that flexible multilayer PCBs offer a number of advantages in terms of design, manufacturing, and performance. One of the biggest benefits of flexible multilayer PCBs is that they offer greater design flexibility. This is because they can be manufactured with smaller intricate features and geometric patterns than rigid boards. As a result, businesses can design their PCBs to be more compact and efficient.
When it comes to sourcing multilayer flexible PCBs, there is no better partner than UnitePCB. We have years of experience in the industry, and our team of experts can help you select the right material and design for your application. We also offer competitive pricing and quick turnaround times, so you can get your product to market faster. Contact us today to learn more about our multilayer flexible PCBs and how we can help you with your next project.
TECHNICAL SPECIFICATIONS
Multilayer Flexible PCB & Multilayer FPCB & Multilayer Flex PCB
| | |
| --- | --- |
| Feature | Parameters |
| 6 Layer flexible PCB& Flex PCB&FPCB | |
| Layer Count | 6-layers |
| Structure | Flex |
| Material | PI FCCL (35μm Cu + 25μm PI + 35μm Cu) |
| FPC Thickness | 0.25mm+/-0.03mm |
| Coverlay | Yellow x2 |
| Silkscreen | White x2 |
| Finished Copper Weight | /35/35μm |
| Surface Finish | Hard Gold Plating (2U) |
| Min NC Drilling Dia | 0.2mm |
| Stiffener | 0.06mm steel stiffener |
| Minimum Trace/space | 0.06MM/0.09MM |
| Application | high speed transmission |