Multilayer Flexible FPC PCB Manufacturing
As a leading PCB fabrication company, we are well equipped to provide flexible PCB fabrication with high layer and ultra-dense component counts, conformal coating & potting, complete mechanical assembly, fixtures and fixtures in circuit or functional testing, turnkey, consignment or mixed model or any other requirements of clients. Our reliable, flexible printed circuit boards are being selected by multiple industries!
Our multilayered boards can be designed using blind and buried vias as well as plated through holes. At Unitepcb, we also provide advance flexible PCBs, which could have a high layer count, large panel size flexible PCBs, controlled impedance, microvias, and more based on your any kind of specific requirements.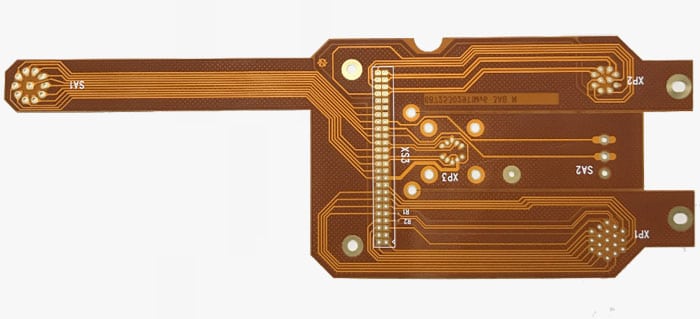 Benefits of Multilayer Flexible FPC PCB
There are several advantages of a flex PCB that are worth considering when thinking of the best foot forward for your all-important product:
1. Space Race: The nature and design of flex PCBs mean they do not use as much space, and additionally weigh less than an ordinary circuit board
2. Bend and Snap: As the name would suggest, flex PCBs also have inherent flexibility allowing for tighter bend capabilities for your product
3. Feeling The Heat: Flex PCBs, due to their substrates such as polyimide, dissipate heat better than most circuit board materials and are able to withstand extreme temperatures
4. Compatibility Test: Flexible printed circuit boards are compatible with a wide range of components or connectors, many being smaller or less expensive connectors
Applications Of Multilayer Flexible PCB
Multilayer flexible PCBs have many applications. Some of the most common include:
1. Consumer electronic devices: Smartphones, e-readers, tablet PCs, and GPS units are a few of the many consumer electronics products that often use multilayer flexible PCBs. Multilayer flexible circuits are also found in high-end printers, desktop computers, laptops, and digital cameras.
2. Industrial equipment: Multilayer flexible PCBs are used extensively in industrial equipment. This includes medical devices, power generation equipment, factory automation hardware, and traffic control equipment.
3. Automotive components: From HVsAC to infotainment systems, flexible multilayer circuits are found in many automotive components.
4. Military/Aerospace products: The military and aerospace industries often rely on flexible multilayer circuits. They can be found in various products, from communication equipment to wearable electronics and avionics systems.
5. Other applications: Multilayer flexible circuits are also used to construct industrial machinery, robotics, buoys, and renewable energy products.
Our Capabilities
As a PCB manufacture. we specialize in the fabrication and assembly of flexible PCB products for use in the manufacturing of medical devices and various types of telecommunication and industrial equipment. Our custom PCB manufacturing capabilities allow us to develop and produce a top-performing flex PCB that meets your unique requirements. We can also work with you to produce a custom flex PCB prototype that will significantly improve your prospects of a successful project outcome.
Multilayer PCB Fabrication Services
Unitepcb is a pioneer manufacturer of multilayer PCBs, and we have extensive experience with customers using these boards across multiple applications and industries. We can ensure that your boards are built to the tightest of standards, whether you need a simple epoxy glass support or want to move into the exotic with Teflons or ceramics.
We are equipped with start-of-art manufacturing facility that can cater to the most complex multilayer PCB fabrication service. Besides our team of experts is equipped with the necessary expertise and industry best practices; ensure that you do not have to contend with costly errors for any kind of multilayer PCB fabrication services. Our portfolio of satisfied clients stands as the biggest testimony to our superior knowledge and craftsmanship.
With PCB design playing a vital role in its performance, you can count on us for efficient designs that ensure easy manufacturability as also reliability. Incorporating aspects such as signal and power integrity, our expert designers ensure that even the most complex designs are seamless.
We are known to handle the most complex boards with dexterity. Our multilayered boards can be designed using blind and buried views as well as plated through holes. The fact that we design boards without any restriction on the number of pieces makes sure that all your requirements are taken care of.
Moreover, we're proud to back up our highly competitive pricing with our unique satisfaction guarantee. As our established industry reputation attests, we'll get the job done right the first time, every time. Contact us by phone, fax or email to discuss any aspect of a PCB design and production job with a member of our team. Alternatively, you can submit your project outline directly to us for a free quote.
TECHNICAL SPECIFICATIONS
Multilayer Flexible PCB & Multilayer FPCB & Multilayer Flex PCB
| | |
| --- | --- |
| Feature | Parameters |
| 6 Layer flexible PCB& Flex PCB&FPCB | |
| Layer Count | 6-layers |
| Structure | Flex |
| Material | PI FCCL (35μm Cu + 25μm PI + 35μm Cu) |
| FPC Thickness | 0.25mm+/-0.03mm |
| Coverlay | Yellow x2 |
| Silkscreen | White x2 |
| Finished Copper Weight | /35/35μm |
| Surface Finish | Hard Gold Plating (2U) |
| Min NC Drilling Dia | 0.2mm |
| Stiffener | 0.06mm steel stiffener |
| Minimum Trace/space | 0.06MM/0.09MM |
| Application | high speed transmission |