Rigid-flex PCB Boards Design
The designs of Rigid-flex PCBs are a little more complex as these boards are designed in 3D, which allows the board to be folded or twisted to create the desired shape for the product. Designing a board in 3D means they can offer greater spatial efficiency and can subsequently be used in special instances where space and weight reduction may be necessary, such as in medical devices.
Rigid-flex PCBs are usually thinner than other boards, meaning it's a great option for any thin or light packaging needs your products may have. With thin copper layers and adhesive-less laminates, it's a great small, thin and light solution for your circuit design needs.
With our rigid-flex PCBs, we can offer cost-effective, high-quality, flexible products that can withstand bending stresses.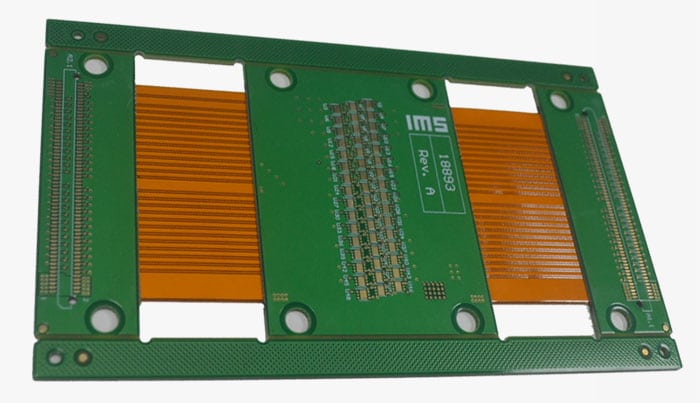 Benefits of Rigid-flex PCBs
There are several benefits to a Rigid-flex PCB which could make it a perfect choice for your product, including:
• Portability on account of the reduced package space and flexibility afforded by the boards.
• Ruggedness on account of use of a flexible substrate. Such PCBs are known to withstand high temperature, electronic, magnetic transmission, high vibration environments and more.
• Ease of testing, hence they find wide application, particularly prototypes.
• Reliability on account of reduced number of solder joints.
• Fit for use in high-density applications.
• Secure connection with the assurance of polarity and contact stability.
• Simplified installation and maintenance of uniform electrical characteristics.
• Reduced cost.
If your product requires a board that needs to be folded when assembled or you're after something highly durable and long-lasting then a Rigid-flex PCB might be the right fit for you.
Uses of Rigid-flex PCBs
Other than being used for electronic devices, rigid-flex circuit boards have a wide range of commercial and industrial applications. They are also used for high grade aircraft mounted weapon guidance systems; rigid-flex printed circuit boards are widely adopted for military and aerospace electronic manufacturing.
Other rigid-flex PCB applications include:
• ABS sensors
• CT scans
• Digital cameras
• Smart jackets
• Cell phones
• Barcode scanners
• Pacemakers
Our Capabilities
At unitepcb, we work hard to get your rigid-flex PCBs to you quickly, provide the quantities you need and meet your required specifications. We also pride ourselves on providing advanced options for your boards. For instance, we offer penalization optimum, which arranges your rigid-flex boards into large multi-unit panels you can easily break apart for use, and shielding, which minimizes electromagnetic interference. We can also use pressure-sensitive adhesives (PSAs) to secure sections of a PCB in place without using soldering.
Video of our PCB products
Video of our PCB production and processing
Multilayer PCB Fabrication Services
Unitepcb is a pioneer manufacturer of multilayer PCBs, and we have extensive experience with customers using these boards across multiple applications and industries. We can ensure that your boards are built to the tightest of standards, whether you need a simple epoxy glass support or want to move into the exotic with Teflons or ceramics.
We are equipped with start-of-art manufacturing facility that can cater to the most complex multilayer PCB fabrication service. Besides our team of experts is equipped with the necessary expertise and industry best practices; ensure that you do not have to contend with costly errors for any kind of multilayer PCB fabrication services. Our portfolio of satisfied clients stands as the biggest testimony to our superior knowledge and craftsmanship.
With PCB design playing a vital role in its performance, you can count on us for efficient designs that ensure easy manufacturability as also reliability. Incorporating aspects such as signal and power integrity, our expert designers ensure that even the most complex designs are seamless.
We are known to handle the most complex boards with dexterity. Our multilayered boards can be designed using blind and buried views as well as plated through holes. The fact that we design boards without any restriction on the number of pieces makes sure that all your requirements are taken care of.
Moreover, we're proud to back up our highly competitive pricing with our unique satisfaction guarantee. As our established industry reputation attests, we'll get the job done right the first time, every time. Contact us by phone, fax or email to discuss any aspect of a PCB design and production job with a member of our team. Alternatively, you can submit your project outline directly to us for a free quote.
TECHNICAL SPECIFICATIONS
16 layers Rigid-flex PCB board
| | |
| --- | --- |
| Feature | Parameters |
| Layers | 2-16-layer |
| Material | FR4+Polyimid |
| Flexible board | 6-layer |
| FR4 boards | 4-layer and 6-layer |
| Thickness | 3.0mm |
| Surface Finish | ENIG (2μ") |
| Inner Layer Copper Thickness | 1OZ |
| Out layer Copper Thickness | 2OZ |
| Min Hole Size | 0.2mm |
| Min Line Width/Space | 3mil |
| Specification | 6L (FPC) +6L (FR4) +6L (FR4) |
| Buried Hole | 0.1mm |
| Blind hole | 0.08mm |