Manufacturing Technology of Rigid-flex PCBs
Manufacturing technology for rigid-flex PCBs has come a long way in recent years, and today's manufacturers are able to produce high-quality boards that meet the demands of even the most demanding applications.
The manufacturing process for rigid-flex PCBs begins with the creation of the base laminate. This laminate is made up of two layers of prepreg, which are sandwiched together with a thin layer of adhesive. Once the prepregs are in place, they are cured under heat and pressure to form a solid sheet of material. The cured laminate is then etched to create the desired circuit pattern. Next, the laminate is drilled to create pathways for conductive vias. Once the drilling is complete, the laminate is coated with a thin layer of solder mask and metalization to protect the circuitry and provide connectivity.
Finally, the rigid-flex PCB is tested to ensure proper operation before it is shipped to the customer. Thanks to advances in manufacturing technology, today's rigid-flex PCBs are more reliable and durable than ever before.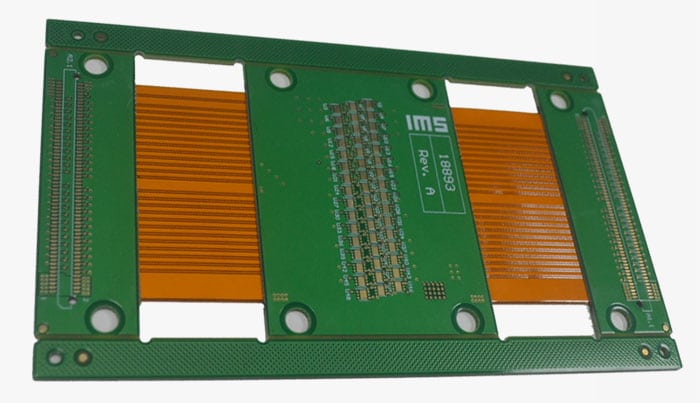 Rigid-flex PCB Boards Design
The designs of rigid-flex PCBs are more complicated as they are constructed in 3D, which permits the board to be folded and bent to form the ideal shape for the item. Making a PCB in 3D implies that they provide greater efficiency in spatial space and are subsequently used in certain situations in which weight reduction and space could be required for medical devices.
They are generally lighter than the other boards, so they're a great choice for any light or thin packaging requirements your products might require. With copper-thin layers that are thin and laminates that are adhesive-free, this is a perfect lightweight, small and thin solution to your design needs.
With our PCBs that are rigid-flex, We can provide cost-effective, high-quality, durable, flexible products that are able to stand up to bending stress.
Benefits of Rigid-flex PCBs
There are many benefits of a rigid-flex PCB that can make it an ideal solution for your project, such as:
• Portability due to the smaller size of packages and the flexibility offered to the PCBs.
• Robustness because of the use of a flexible substrate. These PCBs can resist high temperatures and electronic transmission, magnetic vibrations, and much more.
• Easy testing. Thus, they have a broad application, especially prototypes.
• Reliability based on the lower number of solder joints.
• Suitable for use in high-density environments.
• Secure connection with the security of polarity and stability.
• Simplified Installation and Maintenance of electrical characteristics.
• Cost reduced.
If your product needs a PCB board to fold to be assembled, or you're seeking Printed Circuit Boards that are durable and long-lasting, Then a rigid-flex PCB may be the ideal choice for you.
Applications for Rigid-Flex Circuits
The advantage of rigid-flex circuits is that they're more durable than traditional PCBs, making them ideal for applications where the circuit board will be subject to stress or vibration. They're also smaller and lighter, making them ideal for portable electronic devices.
Apart from being used in electronic devices, these boards can be used for a variety of industrial and commercial applications. They also serve as top-quality guided weapons systems for aircraft. The rigid-flex circuit board have been extensively used in aerospace and military electronic manufacturing.
Other applications for rigid-flex PCBs include:
• ABS sensors
• CT scans
• Digital cameras
• Smart jackets
• Cell phones
• Barcode scanners
• Pacemakers
Rigid-flex circuits offer a number of advantages over traditional circuit board designs. They are more durable, resistant to vibration, and able to withstand extreme temperatures.
Our Rigid-flex PCB Manufacturing Capability
At UnitePCB, we are proud to offer our clients a full range of rigid-flex PCB manufacturing capabilities. We have the experience and expertise to produce high-quality boards that meet the most demanding specifications.
Our process starts with a precise and accurate design, which is then transferred to the production floor. We use advanced equipment to manufacture our boards, and our team of skilled professionals oversees every step of the process. We carefully inspect each board to ensure that it meets our high standards.
We use the latest technologies and processes to ensure that our boards are of the highest quality. We offer a complete solution for your rigid-flex PCB needs, from design to manufacture.
Video of our PCB products
Video of our PCB production and processing
Why Turn To UnitePCB for Rigid-flex PCBs?
UnitePCB is the leading provider of Rigid-flex PCBs, and for good reason. We have over 10 years of experience in the industry, and our team of experts are passionate about providing the best possible products and services to our clients. We offer a wide range of Rigid-flex PCBs to meet the needs of any project, and our prices are highly competitive.
In addition, we offer a 100% satisfaction guarantee on all of our products. So if you're looking for high-quality Rigid-flex PCBs, look no further than UnitePCB. We'll be happy to provide you with the perfect solution for your next project.
TECHNICAL SPECIFICATIONS
16 layers Rigid-flex PCB board
| | |
| --- | --- |
| Feature | Parameters |
| Layers | 2-16-layer |
| Material | FR4+Polyimid |
| Flexible board | 6-layer |
| FR4 boards | 4-layer and 6-layer |
| Thickness | 3.0mm |
| Surface Finish | ENIG (2μ") |
| Inner Layer Copper Thickness | 1OZ |
| Out layer Copper Thickness | 2OZ |
| Min Hole Size | 0.2mm |
| Min Line Width/Space | 3mil |
| Specification | 6L (FPC) +6L (FR4) +6L (FR4) |
| Buried Hole | 0.1mm |
| Blind hole | 0.08mm |