Why Choose a Rigid-flexible Board?
Rigid-flexible printed circuit boards have a wide range of applications in various types of accessories and devices used every day. One of the most obvious applications is in smartphone apps. At the moment, very thin but highly functional smartphones are required, and only rigid-flex technology is capable of achieving this.
Another well-known use for rigid-flexible printed circuit boards is in computer electronics. Hard disks are one of many components that make use of rigid-flex technology. It can keep up with today's computers' ever-increasing write speeds. The use of rigid-flexible PCBs for hard drives is advantageous because it reduces drive temperature.
In consumer products, rigid-flexible PCBs not only save space and weight, but they also improve reliability by eliminating the need for numerous solder joints and delicate and fragile traces that can fail. Rigid-flexible printed circuit boards, on the other hand, can be used in virtually all advanced electrical applications, such as test equipment, tools, and automobiles.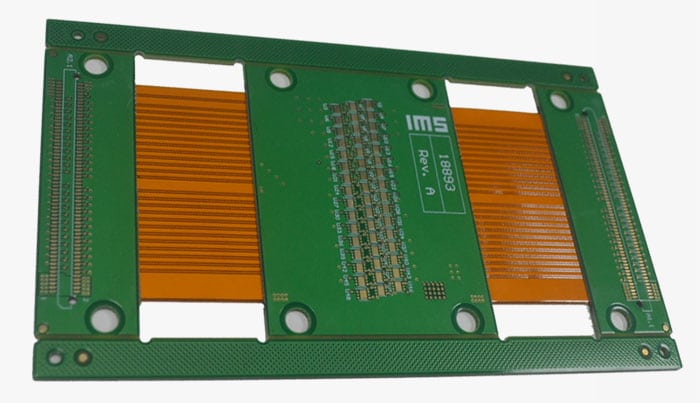 How Are Rigid-flexible PCB Manufactured?
Flex-rigid PCBs are created by stacking rigid and flexible PCBs in an orderly and selective manner, with plated through holes connecting the layers. The introduction of flex-rigid PCBs can effectively reduce the volume and quality of electronic products by replacing harness and connectors that were previously used in electronic products. Furthermore, flex-rigid PCBs can solve contact and intense heat problems caused by harness and connectors, significantly improving device reliability.
Flex-rigid PCBs were created as early as the 1970s by stacking rigid board onto flexible board. Consistent advancement and optimization have resulted in the development of numerous new types of flex-rigid PCB manufacturing technologies. Until now, the most mature and practical flex-rigid PCB manufacturing technology has been the use of glass fiber epoxy resin (FR4) as the external rigid board and solder mask to protect the rigid circuit pattern. When it comes to flexible substrate material, a flexible core is made of polyimide (PI) double-layer board covered with copper, and a polyimide/acrylic film is used to protect the flexible circuit pattern. Low-flow prepreg is required for adhesion. All of these elements are laminated to create flex-rigid PCBs.
By replacing harness and connectors, flex-rigid PCBs can overcome problems with loose contact and thermal dissipation, improving device reliability. The flexible part can be bent at any angle, and the entire PCB board performs admirably in terms of electrical and mechanical properties. Thus, flex-rigid PCBs are suitable for 3D assembly, and the product's freedom degree can be increased while equipment volume and quality are reduced, allowing them to be used in electronic devices that must be bent repeatedly. Flexible substrate materials have such good dielectric stability that they can be used for high-frequency signal transmission and impedance control, as well as withstand radiation, temperature shock, and extreme environments, ensuring that electronic devices run smoothly.
Traditional flex-rigid PCBs are difficult to manufacture with a low yield rate and high density, and they are difficult to repair after failure. During the PCB manufacturing process, rigid bases must be embedded in expensive flexible substrate material, resulting in high raw material waste rates and manufacturing technology difficulty. Because flexible substrate material has a relatively high coefficient of thermal expansion and a high moisture absorption rate, large-area flexible substrate material will accumulate size tolerance, affecting circuit pattern, layer up, drilling, plating, and via cleaning and resulting in low yield. However, embedded flexible circuits can effectively reduce and avoid such issues.
Advantages of Rigid-flexible Printed Circuit Boards
When used in small to large industrial/commercial/household electronic systems, rigid-flex PCBs provide several advantages.
● It allows you to design the board to fit the device rather than designing the device to fit the board's specifications.
● It is lightweight and compact, resulting in a smaller package size.
● It can be designed to fit into tighter or smaller spaces, which contributes significantly to product miniaturization. It is easily bent and folded to fit into smaller equipment.
● It has no solder joints, connectors, or contact crimps. When used in demanding applications, this improves its integrity and reliability.
● Because it integrates rigid and flexible circuits, it has fewer interconnections and circuit failures.
● Due to the excellent thermal stability of the polyimide used in the assembly, it can withstand extreme temperatures. Because of this outstanding quality, it is an excellent choice for military and defense applications.
● Assembling requires less material. As a result, manufacturing and material procurement costs are reduced.
● It is extremely resistant to UV and radiation exposure, as well as harsh chemicals and oils.
● It is intended to be surface mounted on both sides.
● The rigid-flex PCB design is available in a variety of material options and layouts to meet the needs of customers across a wide range of industries.
● It can be manufactured in a rugged manner to withstand shock, vibration, and other harsh industrial conditions.
Rigid-flex PCBs are most commonly found in aerospace, manufacturing, construction, power generation, consumer, and automotive applications.
Rigid Flexible PCB Manufacturing
UnitePCB manufactures dependable rigid-flexible boards. We provide high volume production as well as low volume prototypes. Our experts can also assemble your PCBs after fabrication, and we produce lightweight, rigid-flex boards that fit into tight spaces while providing three-dimensional freedom.
The use of rigid-flex PCBs in conjunction with UnitePCB's technology can provide significant benefits to your project. You can fully benefit from these advantages if you begin properly and carefully evaluating options early in the design phase of your project. UnitePCB is an experienced manufacturer of rigid-flex PCB technology who will work with you throughout the design process to ensure complete coordination and synchronization between your design and manufacturing processes.
The above-mentioned early communication is required because manufacturing rigid-flex PCBs is a very complex and time-consuming process when compared to producing conventional rigid PCBs. When we make the flexible part of a rigid-flex board, we use a completely different process. Flexible components require entirely different types of handling, chemical etching, mechanical or laser drilling, and soldering techniques than standard circuit boards.
Our Rigid-flex PCB Manufacturing Capability
| | |
| --- | --- |
| Feature | Capability |
| Number of Layers | 1-12 layers |
| Build Time | 4-6 Working days |
| Polyimide base material | Polyimide(PI), PET, Polyester-Flex |
| FPC Thickness | 0.08 mm – 0.6 mm |
| Min Track / Spacing | 3Mil/Mil |
| Min Hole Size (diameter) | 0.1MM-0.2MM |
| Coverlay (Flex Part) | Yellow Coverlay, White Coverlay, Black Coverlay |
| Silkscreen Color | Yellow, Red, White, Black, Etc. |
| Surface Finish | Plated Gold, Immersion Gold, OSP, Immersion Silver, Immersion Tin, Etc. |
| Finished Copper | 0.5 oz – 6 oz |
Video of Our PCB Products
Video of Our PCB Production and Processing
Why Choose UnitePCB?
Our team is efficient and skilled in all aspects of design and production, as well as testing and delivery. Superior products and services have allowed us to keep a diverse customer base over time. We provide complete service. We guarantee 1 to 5-day turnaround times and on-time delivery of all our products, including rigid-flexible boards. UnitePCB is a reliable manufacturer of rigid-flexible printed circuit boards and your growth partner.
Another significant benefit we provide is that we do not allow the quantity of PCBs to compromise the quality. You can rely on our service whether you need a prototype or a full production run. Simply share your exact requirements with our team of rigid-soft PCB manufacturers, and we will respond with a competitive custom quote.
TECHNICAL SPECIFICATIONS
16 layers Rigid-flex PCB board
| | |
| --- | --- |
| Feature | Parameters |
| Layers | 2-16-layer |
| Material | FR4+Polyimid |
| Flexible board | 6-layer |
| FR4 boards | 4-layer and 6-layer |
| Thickness | 3.0mm |
| Surface Finish | ENIG (2μ") |
| Inner Layer Copper Thickness | 1OZ |
| Out layer Copper Thickness | 2OZ |
| Min Hole Size | 0.2mm |
| Min Line Width/Space | 3mil |
| Specification | 6L (FPC) +6L (FR4) +6L (FR4) |
| Buried Hole | 0.1mm |
| Blind hole | 0.08mm |