High-density Interconnect PCB Manufacturing
If you thought that the manufacturing of HDI PCBs would require special equipment or additional time, you would be right, as several processes and particular equipment are needed to assemble these high-quality boards. Laser drill technology is needed to drill the small micovias, which allow for additional technology on the board. The lamination process of HDI PCBs is also more complex, due to the fact they are multi-layer boards constructed with densely routed layers.
High-density circuit boards are PCBs with one or more of the following features:
• Through vias and buried vias
• Through vias from surface to surface
• At least two layers with through vias
• Coreless construction with layer pairs
• Passive substrate constructions that have no electrical connection
• Alternative constructions of coreless builds with layer pairs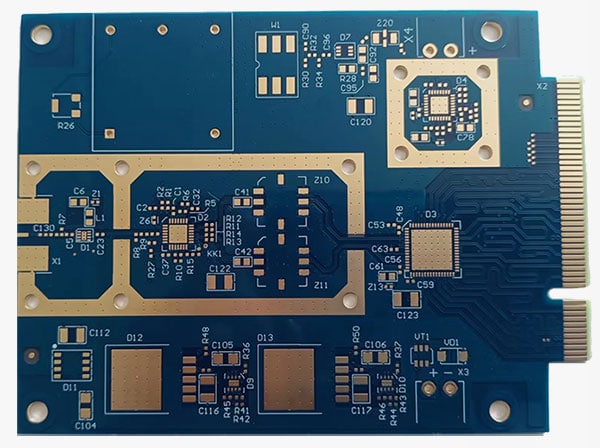 Benefits of HDI PCB
This HDI technology allows designers and manufacturers to place more components on both sides of the PCB, if needed for your products. HDI boards also contain blind and buried vias, alongside micro vias which have a smaller diameter meaning designers are also able to place smaller components closer together on the board, resulting in quicker transmission of signals across and less signal loss or crossing delays.
The finer structures of a HDI PCB means they are extremely compact in size and have fewer layers compared to multi-layer PCBs, allowing for greater packaging density. Whilst they may be smaller in size, the HDI micorvia technology used to produce these boards means an 8 layer through-hold PCB can be reduced to a 4 layer HDI PCB whilst still having the same, or improved functions of a standard 8 layer PCB. Subsequently, what an HDI PCB lacks for in size, it makes up for in quality.
Uses of HDI PCB
A HDI PCB is usually found in complex electronic devices that demand excellent performance while conserving space. Applications include mobile /cellular phones, touch-screen devices, laptop computers, digital cameras, 4/5G network communications, and military applications such as avionics and smart munitions.
Automotive and aerospace industries, where lower weight can mean more efficient operation, have been utilizing HDI PCBs at an increasing rate. Like almost everything else, cars are becoming more connected and computerized. Today's cars have around 50 microprocessors on board that play a role in engine controls, diagnostics, safety features and other conveniences. Many advanced features such as onboard WiFi and GPS, rearview cameras and backup sensors rely on HDI PCBs. As automotive technology continues to advance, HDI tech will likely play an increasingly important role.
HDI PCBs are also prominently featured in medical devices; advanced electronic medical devices such as equipment for monitoring, imaging, surgical procedures, laboratory analysis etc., incorporate HDI boards. The high-density technology promotes improved performance and smaller, more cost-effective devices, potentially improving the accuracy of monitoring and medical testing.
Our Capabilities
Being a leading HDI PCB manufacturer, we at Unitepcb offer precision designed boards for use in high density applications. We have high tech capabilities and the right people to design advanced circuit boards to the exact customer's specifications.
HDI PCBs are widely chosen for applications that call for compact, yet higher functional boards. These boards help minimize the size of the application, and enhances their electrical performance and lowers power consumption. Also, they ensure stable voltage rail, minimal stubs, and lower RFI/EMI. Since, we use quality systems such as ISO 9001 to develop well-defined PCBs, and our clients can rest assured of the quality of the final PCB assembly.
Video of our PCB products
Video of our PCB production and processing
Multilayer PCB Fabrication Services
Unitepcb is a pioneer manufacturer of multilayer PCBs, and we have extensive experience with customers using these boards across multiple applications and industries. We can ensure that your boards are built to the tightest of standards, whether you need a simple epoxy glass support or want to move into the exotic with Teflons or ceramics.
We are equipped with start-of-art manufacturing facility that can cater to the most complex multilayer PCB fabrication service. Besides our team of experts is equipped with the necessary expertise and industry best practices; ensure that you do not have to contend with costly errors for any kind of multilayer PCB fabrication services. Our portfolio of satisfied clients stands as the biggest testimony to our superior knowledge and craftsmanship.
With PCB design playing a vital role in its performance, you can count on us for efficient designs that ensure easy manufacturability as also reliability. Incorporating aspects such as signal and power integrity, our expert designers ensure that even the most complex designs are seamless.
We are known to handle the most complex boards with dexterity. Our multilayered boards can be designed using blind and buried views as well as plated through holes. The fact that we design boards without any restriction on the number of pieces makes sure that all your requirements are taken care of.
Moreover, we're proud to back up our highly competitive pricing with our unique satisfaction guarantee. As our established industry reputation attests, we'll get the job done right the first time, every time. Contact us by phone, fax or email to discuss any aspect of a PCB design and production job with a member of our team. Alternatively, you can submit your project outline directly to us for a free quote.
TECHNICAL SPECIFICATIONS
10 Layer HDI PCB multilayer S1000-2M,TG180 PCB (1+8+1)
Feature
Parameters
Material
S1000-2M, TG180°
Layer Count
10 (blind & buried vias, high speed)
Finished Thickness
2.0 mm+/-10%
Finished Copper
inner: 35 um, outer: 70 um
Surface Finish
ENIG (Immersion gold: 3μ")
Minimum trace/space
3mil/3mil
Min. Hole Size
0.1mm
Min NC Drilling
0.203mm
Special Hole Tolerances
Resin Filled & Capped Vias
yes
Impedance Control
yes (differential 90 & 100 ohm / 3 impedance control values)
Technical Feature
90Ω & 100Ω Differential impedance, thick cooper