Multilayer Aluminum PCB Manufacturing
According to the different design structures and application scenarios of aluminum PCB, there are mainly single-sided aluminum PCB, double-sided aluminum PCB, Flexible aluminum PCB, mixed aluminum PCB, multi-layer aluminum PCB, through-hole aluminum PCB, and so on.
As a printed circuit board manufacturer in China, Unitepcb has rich experience in manufacturing aluminum PCB boards. It provides customers with high-quality aluminum substrate Manufacturing and one-stop aluminum PCB turnkey assembly services, prompt delivery on time, and competitive prices.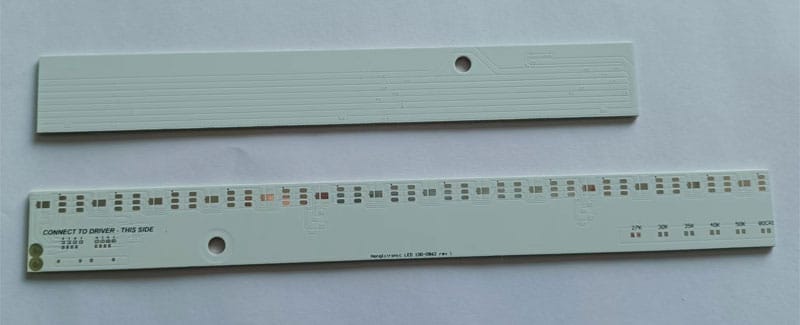 Benefits of Aluminum PCB
1. Better heat dissipation and conductivity: Compared with ordinary FR4 PCB, aluminum PCB has excellent heat dissipation performance. For example, Fr4 PCB with a thickness of 1.5mm will have a thermal resistance of 20-22 degrees per watt, while aluminum PCB with a depth of 1.5mm will have a thermal resistance of 1-2 degrees per watt.
2. There is no serious problem of thermal expansion or contraction: each substance has its coefficient of thermal expansion. The CTE of aluminum (22ppm/C) and copper (18ppm/C) is quite close. Since aluminum PCBs work well in terms of Thermal dissipation, they do not have severe expansion or contraction issues. They work excellently and are durable and reliable.
3. Dimensional Stability: aluminum PCBs show dimensional Stability and stable size. For example, when heated from 30-140 degrees, their size only changes by 2.5%-3.0%.
4. Others: Aluminum PCBs can be used in power device surface mount technology. They are valid for use in circuit design because of their performance in terms of thermal expansion of circuit design. They help to prolong product shelf life and product power density. They are also highly reliable. They can help to shrink the overall volume of the product and is also a cheaper option. They show electromagnetic shielding and high dielectric strength.
Uses of Aluminum PCB
1. Audio device: Input, output amplifier, balanced amplifier, audio amplifier, pre-amplifier, power amplifier.
2. Power Supply: Switching regulator, DC / AC converter, SW regulator, etc.
3. Communication electronic equipment: High-frequency amplifier, filtering appliances, the transmitter circuit
4. Office automation equipment: Motor drive, etc.
5. Automobile: Electronic regulator, ignition, power supply controller, etc.
6. Computer: CPU board, floppy disk drive, power supply devices, etc.
7. Power Modules: Inverter, solid-state relays, rectifier bridges.
8. Lamps and lighting: As the advocated promotion of energy-saving lamps, a variety of colorful energy-saving LED lights are well received by the market, and aluminum PCB used in LED lights also begin large-scale applications.
Our Capabilities
Aluminum PCBs are excellent for dealing with high heat-dissipating circuits. They can dissipate heat efficiently and increase the life components and the board. Aluminum can withstand high temperature and pressure stress. It's durable and long-lasting. We are capable of manufacturing all types of PCBs, including multilayer aluminum PCB. Our strict quality control can ensure excellent quality.
Video of our PCB products
Video of our PCB production and processing
Multilayer PCB Fabrication Services
Unitepcb is a pioneer manufacturer of multilayer PCBs, and we have extensive experience with customers using these boards across multiple applications and industries. We can ensure that your boards are built to the tightest of standards, whether you need a simple epoxy glass support or want to move into the exotic with Teflons or ceramics.
We are equipped with start-of-art manufacturing facility that can cater to the most complex multilayer PCB fabrication service. Besides our team of experts is equipped with the necessary expertise and industry best practices; ensure that you do not have to contend with costly errors for any kind of multilayer PCB fabrication services. Our portfolio of satisfied clients stands as the biggest testimony to our superior knowledge and craftsmanship.
With PCB design playing a vital role in its performance, you can count on us for efficient designs that ensure easy manufacturability as also reliability. Incorporating aspects such as signal and power integrity, our expert designers ensure that even the most complex designs are seamless.
We are known to handle the most complex boards with dexterity. Our multilayered boards can be designed using blind and buried views as well as plated through holes. The fact that we design boards without any restriction on the number of pieces makes sure that all your requirements are taken care of.
Moreover, we're proud to back up our highly competitive pricing with our unique satisfaction guarantee. As our established industry reputation attests, we'll get the job done right the first time, every time. Contact us by phone, fax or email to discuss any aspect of a PCB design and production job with a member of our team. Alternatively, you can submit your project outline directly to us for a free quote.
TECHNICAL SPECIFICATIONS
Aluminum PCB multilayer PCB 4-layer PCB MCPCB
Feature

Parameters

Layer Count

4 layer

Material

Aluminum Core Substrate with 4mil Dielectric

Dielectric layer thickness

220UM

Thermal Conductivity

3W/m·K

Finished Board Thickness

2.4mm +/-10%

Solder Mask

White x2

Silkscreen

Black x2

Finished Outer Copper Weight

1oz

Surface Finish

ENIG+HASL lead free

Copper thickness

3oz

Application

Stage Lamp, High Power Lighting

LAYER

1- 6Layers

SUBSTRATE

Aluminium / Copper / Iron Based, TC=1~3W/MK

FINAL THICKNESS

0.02"-0.18"(0.5mm- 4.6mm)

SURFACE TREATMENT

Regular Lead: HASL

Lead- free

Lead- free HASL, ENG Gold; OSP, Immersion silver

MAX/MIN BOARD SIZE

Min: 0.2"x0.2" Max: 43.3"x19"

MIN TRACE WIDTH/MIN CLEARANCE

0.5oz: 4/4mil, 1oz: 5/5mil, 2oz: 5/7mil, 3oz: 7/8mil,4oz: 10/10mil

MIN HOLE RING

0.5oz: 4mil, 1oz: 5mil, 2oz: 7mil, 3oz: 10mil, 4oz: 16mil

COPPER THICKNESS

0.5oz- 4oz

MIN HOLE SIZE AND TOLERANCE

Min hole: 30mil (Final Thickness 0.5mm- 2.0mm)

45mil (Final Thickness 2.0mm- 4.6mm)

Tolerance

PTH±4mil, NPTH±3mil