Heavy Copper PCB Manufacturing
Copper core circuit boards are a type of metal core PCB. With their layered design using a copper base, these PCBs offer superior thermal conductivity. Unitepcb has customized solutions for your copper core PCB requirements. Experience the advantages of high thermal conductivity with specially designed copper core circuit boards from Unitepcb.
• Base layer: The base layer is made of a copper substrate that offers high thermal conductivity and heat transfer.
• Thermal insulation layer: Copper core PCBs use prepreg or another high thermal conductivity insulation to improve heat transfer.
• Circuit layer: Copper foil makes up the circuit layer, and these often range from 1 to 10 ounces.
• Dielectric layer: An added dielectric layer absorbs the heat that travels through the circuit layer and sends it to the copper substrate for dispersion.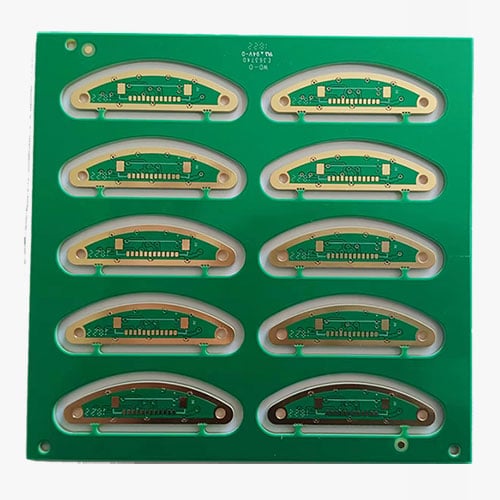 Benefits of Heavy Copper PCB
The main benefit of heavy copper PCB is the capability to support frequency to excessive current, elevated temperatures and recurring thermal cycling, which can do harm to aregular circuit board in seconds. What's more, there is a great demand for heavy copper PCBs in the computer, automotive, military, and industrial controls.
In addition, there are some other benefits of heavy copper PCB as follows:
1. Compact product size because of several copper weights on the same layer of circuitry;
2. Onboard high-power-density planar transformers;
3. Heavy copper-plated vias pass the elevated current through the PCB and are good for transferring the heat to an outer heat sink.
Uses of Heavy Copper PCB
As a material with high thermal conductivity and heat dissipation, copper core PCBs are the ideal solution for high-power applications. When you're working with high-temperature projects, copper core circuit boards offer the best thermal conductivity and heat dissipation available. Your PCB will survive these severe conditions without sustaining damage to critical components.
Metal core PCBs were initially created for high-power switching supply, but they also have a significant presence in light-emitting diode (LED) applications, such as traffic lights. Copper core PCBs support higher-density designs, enabling more complex projects while operating at high currents.
Possible applications include:
• Lighting: Street lights, interior lighting and camping lanterns
• Automotive: Headlights and power controllers
• Telecommunications: Filtering appliances and high-frequency amplifiers
• Audio: Output, input and power amplifiers
• Computers: Central processing unit (CPU) boards and power devices
• Power supply: Solid-state relays, bridges, power rectifiers and converters
• Medical tools: Operating room and surgical lighting, power converters and high-power scanning technology
Our Capabilities
Unitepcb manufacturers can develop and produce excellent high quality heavy copper PCB products. We can provide heavy duty copper PCB manufacturing services with 13 ounces of copper. We are able to build differential copper plating on the PCB based on the client's design. We do have a guideline for the engineers to follow during the design to ensure the trace and space is compensated for heavy copper designs to consider etch back factor in manufacturing.
Video of our PCB products
Video of our PCB production and processing
Multilayer PCB Fabrication Services
Unitepcb is a pioneer manufacturer of multilayer PCBs, and we have extensive experience with customers using these boards across multiple applications and industries. We can ensure that your boards are built to the tightest of standards, whether you need a simple epoxy glass support or want to move into the exotic with Teflons or ceramics.
We are equipped with start-of-art manufacturing facility that can cater to the most complex multilayer PCB fabrication service. Besides our team of experts is equipped with the necessary expertise and industry best practices; ensure that you do not have to contend with costly errors for any kind of multilayer PCB fabrication services. Our portfolio of satisfied clients stands as the biggest testimony to our superior knowledge and craftsmanship.
With PCB design playing a vital role in its performance, you can count on us for efficient designs that ensure easy manufacturability as also reliability. Incorporating aspects such as signal and power integrity, our expert designers ensure that even the most complex designs are seamless.
We are known to handle the most complex boards with dexterity. Our multilayered boards can be designed using blind and buried views as well as plated through holes. The fact that we design boards without any restriction on the number of pieces makes sure that all your requirements are taken care of.
Moreover, we're proud to back up our highly competitive pricing with our unique satisfaction guarantee. As our established industry reputation attests, we'll get the job done right the first time, every time. Contact us by phone, fax or email to discuss any aspect of a PCB design and production job with a member of our team. Alternatively, you can submit your project outline directly to us for a free quote.
TECHNICAL SPECIFICATIONS
Feature
Parameters
Maximum Number of Layers
60
Materieal
Laminate-FR-4 (All Tg Ranges),Teflon,Ceramic
Finished Thickness
0.020"-0.275"
Soldermask
Green,Blue,Red,Black,Clear and White Solder Masks&Legend Inks
Minimum Soldermask Clearance
6 mils
Minimum Solder Dam Width
5.5 mils
Surface Treatment
Hot Air Solder Leveling(HASL) Immersion Gold (ENIG)&Immersion Silver
Degree of Difficulty
Blind & Buried Vias
Minimum Drill Bit Hole Size
0.012"
Minimum Holes Size
0.008" +0.005"/-0.008"
Technical Feature
90Ω & 100Ω Differential impedance, thick cooper
Maximum Hole Aspect Ratio =10:1
Maximum Copper Weight
6 oz.(UL Approved)
Controlled Impedance
+/- 10%
Minimum Silkscreen Line Width
8 mils