Multilayer PCB Manufacturing Process
Because multilayer PCB manufacturing involves more cross-connections, overlaps, and tracing in copper regions, special precautions must be taken. All of this must be carried out in an ESD-Safe, Cleanroom environment. For the manufacturing of 8+ layers of PCBs, we need special manufacturing equipment.
The PCB core is the first step in manufacturing multilayer circuit boards. Next, you will add prepreg layers made from the same material as your core. These layers can be processed and adjusted after they have been cured.
Foil can then be added to the boards and can be used in combination with other prepreg layers through a lamination procedure. Unitepcb is a leading manufacturer of multilayer PCBs in China. We use the most recent pressure and high-temperature techniques to fuse the boards and melt the prepreg layers to join them.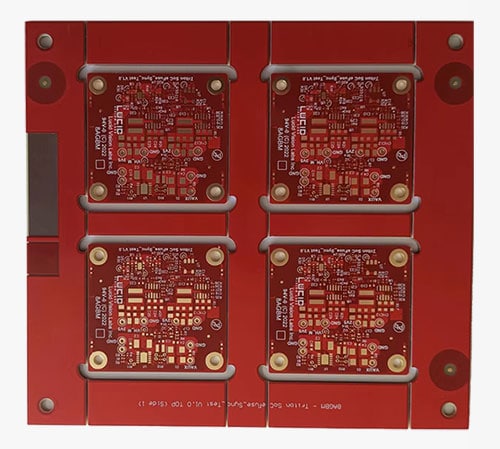 Benefits of Multilayer PCBs

(Compared to Single or Double-sided PCBs)
The entire curing process used to manufacture multilayer printed circuit boards creates a unified, extremely tough, solid multilayer board. This delivers a variety of benefits:
• Considerable space savings
• EMI shielding with ground and power layers
• Higher assembly density
• More flexible boards
• Reduction of the need for interconnection wiring (reduces overall weight)
• Easier incorporation of controlled impedance features
Multilayer PCB Applications
Multilayer Printed Circuit Boards offer more flexibility and increased circuit density with reduces size. This is why many electronic companies in the world use these boards in several electronic devices and gadgets:
• Modern-day consumer electronic appliances: As we have mentioned earlier, smartphones and smart devices use multilayer PCBs due to their small form factor and multi-functionality.
• Manufacturing industry and production line: With its durability comes the capability to be used in extreme industrial setups to withstand pressure, heat, and high temperature. Also, the multifunctionality and small form factor are other reasons for its extended adoption.
• Telecommunication industry: Network appliances and transmission devices use multilayer PCBs due to their durability and flexibility to adapt to outdoor and indoor environments.
• Medical devices and the healthcare industry: Medical equipment require precise functioning for treatment and diagnosis. Multilayer PCBs are used in the medical industry due to their less weight and extensive robust functionalities.
• Military and defense: Durability and low weight are essential factors to be used in military and defense. Multilayer PCBs provide compact designs with small size boards for more room for other components and custom functionalities.
• Automotive and aerospace systems: The automotive and aerospace industries are dependent on precision and extreme conditions. Multilayer PCBs can withstand extreme operating conditions and do not damage the product to maintain its quality and functionality.
Our Advantages
• Circuit boards with up to 60 layers of copper
• Use high Tg Materials for multilayer PCBs by default
• Existing material variety provides countless combination possibilities
• Special-purpose production line for immersion gold
• ISO quality management system for multilayer PCB manufacturing
• Extremely thin material components starting from 0.05 mm thickness of inner layer for electrical functions in multilayer assemblies
• Multilayer flex, rigid, rigid-flex, aluminum, ceramic PCBs available
• From circuit board sample to large-scale production from a single source
• Professional one-on-one engineering support
Video of Our PCB Products
Video of Our PCB Production and Processing
Multilayer PCB Fabrication Services
Unitepcb, a pioneer in multilayer PCB manufacturing, has extensive experience working with customers who use these boards in a variety of industries and applications. No matter if you require epoxy glass support or Teflon and ceramics, we can assure you that your boards will be built to the highest standards.
Our Advanced and sophisticated PCB equipment can handle multilayer PCB fabrication services. Our team of industry experts has the expertise and best practices to ensure you don't make costly mistakes when multilayer PCB fabrication is required. We are proud to have a long list of satisfied customers as a testimony to our craftmanship and superior knowledge.
Our PCB design plays a crucial role in the performance of your PCB. We can provide efficient designs that are both reliable and easy to manufacture. Our expert designers incorporate aspects such as power integrity and signal integrity to ensure seamless designs.
Our dexterity is known for handling even the most complicated boards. Multilayered boards can be made using blind or buried vias, as well as through holes. We can design any kind of PCB board for clients.
We are proud to offer a unique satisfaction guarantee in addition to our competitive pricing. We will do the job right, no matter what the industry's reputation. To discuss all aspects of a PCB production job or design, contact us by email, fax, or phone. You can also send the files to us about your project, and we will provide a competitive price for you.
Technical specifications
Feature
Parameters
Quality Grade
Standard IPC 1
Number of Layers
1-60 layers
Material
FR-4 Standard Tg 140°C
Board Size
Min 6*6mm | Max 500*500mm
Board size tolerance
±0.1mm - ±0.3mm
Board Thickness
0.4mm - 2.0mm
Board Thickness Tolerance
±0.1mm - ±10% of thickness of board
Copper Weight
1.0oz - 2.0oz
Inner Layer Copper Weight
0.5oz - 1.0oz
Copper Thickness Tolerance
+0μm +20μm
Min Tracing/Spacing
5mil/6mil (copper weight: 1oz)
8mil/8mil (copper weight: 2oz)
Solder Mask Sides
As per the file
Solder Mask Color
Green, White, Blue, Black, Red, Yellow
Silkscreen Sides
As per the file
Silkscreen Color
White, Black
Surface Finish
Lead Free HASL - RoHS HASL - Hot Air Solder Leveling
ENIG - Electroless Nickel/Immersion Gold - RoH
Min Drilling Hole Diameter
8mil
Min Width of Cutout (NPTH)
0.8mm
NPTH Hole Size Tolerance
±.002" (±0.05mm)
Min Width of Slot Hole (PTH)
0.6mm
PTH Hole Size Tolerance
±.003" (±0.08mm) - ±.006" (±0.15mm)
Surface/Hole Plating Thickness
20μm - 30μm
SM Tolerance (LPI)
003" (0.075mm)
Aspect Ratio
10: 1 (board thickness: hole size)
Test
10V - 250V, flying probe or testing fixture