Rogers PCB: Manufacturer of Premium Circuit Board Materials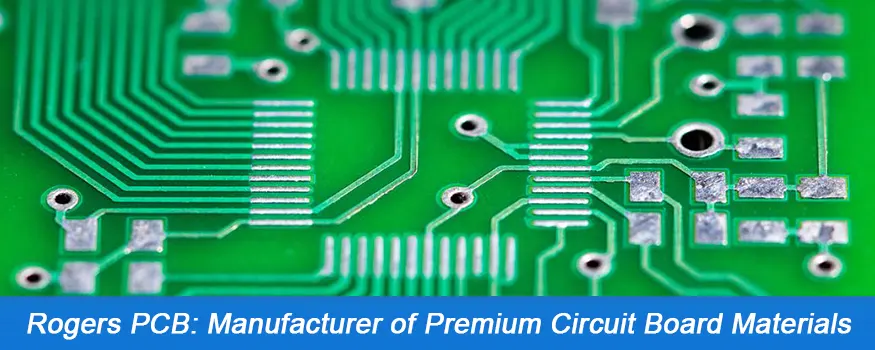 Rogers is a brand of laminates used to manufacture printed circuit boards. The company supplies advanced PCB materials to many manufacturers, and they are hugely popular with players due to their robust properties. Their flame retardant 4 (FR4) materials for PCB substrates offer a wide range of dielectric constants and reduced signal loss, among other benefits. In addition, they offer better heat resistance in harsh environments.
Rogers printed circuit boards are widely used in mission-critical equipment and systems such as defense and aerospace. The use of advanced PCB materials not only supports the construction of next-generation designs but also helps to reduce dielectric losses and low electrical signal losses, among other things. As a Rogers PCB manufacturer, UnitePCB has a long-standing relationship with Rogers material suppliers, who provide us with high-quality Rogers dielectrics, laminates, and prepregs.
UnitePCB uses Rogers' special high-frequency circuit materials to manufacture Rogers PCBs with high frequency and high-speed performance. Our Rogers PCB series is designed to provide better thermal performance for harsh application environments.
Why Rogers PCB Material?
Although Rogers laminates are slightly more expensive than other materials, they perform well under challenging conditions. Here are the reasons for choosing Rogers materials.
● Reduced electrical signal and dielectric losses.
● Low outgassing when used in space applications.
● Improved controlled impedance.
● Best suited for high-power applications.
● Improved reliability of plated through holes (PTH).
● Improved heat sink performance.
● Improved dimensional stability.
● Low CTE values make it ideal for space and radar applications.
● Offers a wide range of dielectric constants (2.55 to 10).
What Are the Properties of the Rogers PCB Material?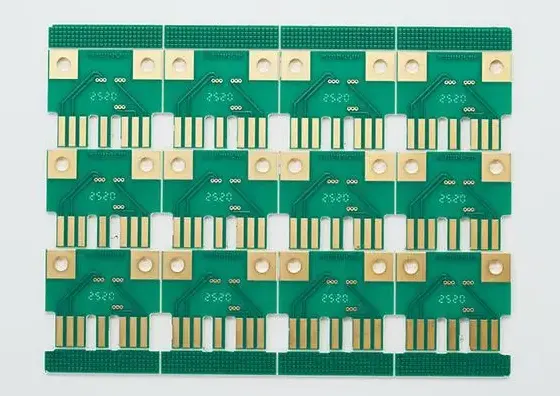 Rogers circuit boards are ideal for use in microwave ovens and electronic appliances. This makes it ideal for use on a variety of devices. The circuit is ideal if you want to reduce the size of the circuit. Rogers printed circuit boards offer low material loss and reduced frequency loss.
Some of the important features of Rogers printed circuit boards are as follows.
● Rogers PCB material is made of the highest quality FR-4 and copper laminate, which reduces signal loss. This makes it ideal for electronic equipment such as radios, laptops, desktops, and similar devices.
● In terms of impedance stability, Rogers PCB materials offer a wider range of Dk values than standard FR-4 materials.
● Rogers PCB materials also help to reduce dielectric losses. This makes Rogers PCBs ideal for multilayer board design structures. In addition, Rogers PCBs do not support bromination, which ensures that all models are available in the same configuration. These characteristics are fundamental to Rogers PCB materials and make them suitable for designing structures that use fluids.
● Rogers PCBs offer excellent thermal management. Since these circuits provide excellent heat dissipation, longer device life is ensured. Thermal management is critical to improving device efficiency, and Rogers printed circuit boards use superior Rogers printed circuit board materials to ensure this.
● Rogers PCB materials are designed to resist oxidation, which is critical to maintaining circuit integrity over time. Because of the high oxidation stability of Rogers' PCB material, you can easily use the circuit in capacitors, transformers and other similar heavy-duty electrical equipment.
As a result, Rogers printed circuit boards can help you build a more robust electronic device that will last longer and be more efficient. This is essential to ensure that you don't have to constantly change the circuitry in your equipment to ensure that it continues to perform at its best. The main feature of Rogers boards is that they are durable circuits that can withstand damage over time.
Factors to Consider When Choosing a Rogers Material
● Coefficient of thermal expansion: According to the principle that things expand by heat, PCB materials also expand at a certain temperature. Usually, they expand when the temperature exceeds a set glass transition temperature. Their expansion rate above this temperature is called the coefficient of thermal expansion and is measured in parts per million (ppm).
● Dielectric constant: A stable dielectric constant is critical, especially in applications with high operating frequencies. The dielectric constant is the amount of charge stored in the PCB material, and its high-value results in higher capacitance and increased voltage through the PCB. For example, Rogers 4350B has a dielectric constant of 3.66, making it ideal for microwave point-to-point connections.
● Moisture absorption: Ideally, the material will not absorb moisture even when immersed in water; however, this is very unrealistic. However, the amount of moisture absorption must be minimal. Most materials used for PCBs have a moisture absorption rate between 0.01% and 0.2%. Materials with low absorption have better thermal and electrical properties.
● Decomposition temperature: The maximum and minimum temperatures the printed circuit board can withstand should be determined by the application and designed accordingly using the appropriate material. If the temperature is just above the upper limit, there should be a reversal mechanism. Otherwise, PCBs will disintegrate and lose a certain percentage of their mass. For most applications, the ideal upper limit temperature is 350 degrees Celsius. The decomposition temperature should be set to anything above this temperature.
Rogers PCB Applications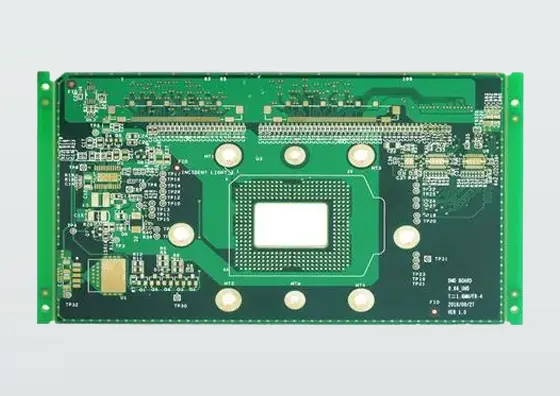 ● Rogers 4350B: Rogers 4350B features low loss power and stable dielectric constant (DK) regulation, making the material ideal for high-performance RF designs and super active devices.
● Rogers 3003: This Rogers PCB model is suitable for 77 GHz automotive radar applications and supports 5G wireless applications and ADAS.
● Rogers 3006: The 3006 model offers excellent mechanical and electrical stability – with reliable dielectric constants at various temperatures. And it also eliminates incremental changes in DK.
● Rogers 3010: The 3010 is one of the most affordable models with an advanced ceramic-filled PTFE material. As a result, its stability streamlines the broadband components.
● Rogers 5880: Reinforced with glass microfibers, Rogers 5880 has low DK and loss features. This makes the model very suitable for broadband and high-frequency applications.
● Rogers 6002: Equipped with low-DK material, the 6002 model is ideal for advanced microwave structures. Therefore, it is ideal for multilayer board designs.
● Rogers 6010: This RO6010 is ideal for microwave and PCB applications that require high DK. The model is also ideal – if you plan to employ circuit size reduction.
● Rogers 4003: The Rogers 4003 model uses 1674 and 1080 glass cloth styles. All configurations have the same specifications, and they do not support buzz.
● Rogers 4835: This 4835 laminate is a low-loss material that is highly stable at significant oxidation and high temperatures. This gives you a standard glass or epoxy FR-4 process and low-cost circuit fabrication.
● Rogers 4360G2: This laminate perfectly balances yield and performance. In addition, the low-loss laminate consists of a hydrocarbon ceramic-filled thermostatic material.
Capabilities in Manufacturing Rogers Material PCB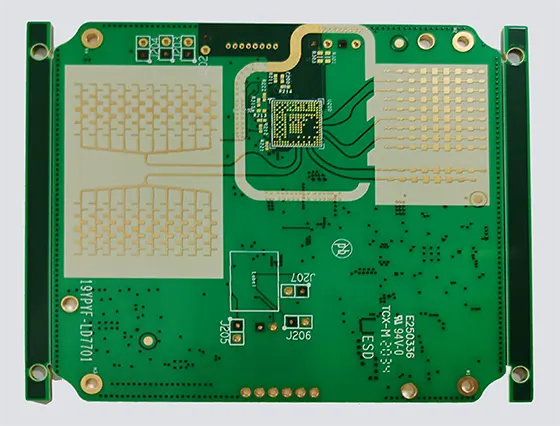 | | |
| --- | --- |
| Capability | Process Capability Parameter |
| Layer Count | 1-36 Layers |
| Base Material | Shengyi、ShengyiSF305、FR408、FR408HR、IS410、FR406、GETEK、370HR、IT180A、Rogers4350B、Rogers4000、PTFE Laminates(Rogers series、Taconic series、Arlon series、Nelco series)、Rogers/Taconic/Arlon/Nelco laminate with FR-4 material(including partial Ro4350B hybrid laminating with FR-4) |
| Board Type | Backplane、HDI、High multi-layer 、blind&buried PCB、Embedded Capacitance、Embedded resistance board 、Heavy copper power PCB、Backdrill. |
| Copper Thickness | 1/3 OZ- 20 OZ |
| PTH Wall | 25um(1mil) |
| Min laser drilling size | 4mil |
| Min. Spacing/Tracing | 2.5mil/2.5mil |
| Solder Mask | Green, Black, Blue, Red, White, Yellow, Purple matte/glossy |
| Surface Treatment | Flash gold(electroplated gold)、ENIG、Hard gold、Flash gold、HASL Lead-free 、OSP、ENEPIG、Soft gold、Immersion silver、Immersion Tin、ENIG+OSP, ENIG+Gold finger, Flash gold(electroplated gold)+Gold finger, Immersion silver+Gold finger, Immersion Tin+Gold finger. |
| Min. Annular Ring | 3mil |
| Aspect ratio | 10:1 |
| Impedance control | ±5%ohm(<50ohm), ±10%(≥50ohm) |
Why Choose UnitePCB for Rogers PCB Fabrication Service?
When you need highly reliable PCBs, you can rely on UnitePCB. You can be sure that we will use high-quality materials from Rogers and combine them with our technical expertise in making high-quality PCBs.
We can offer the RO3000 and RO4000 series with a large stock of raw materials. From single to multi-layer PCBs, from FR4 to Rogers laminates, UnitePCB will meet your requirements to produce mixed FR4 and Rogers laminates.