What are the types of printed circuit boards?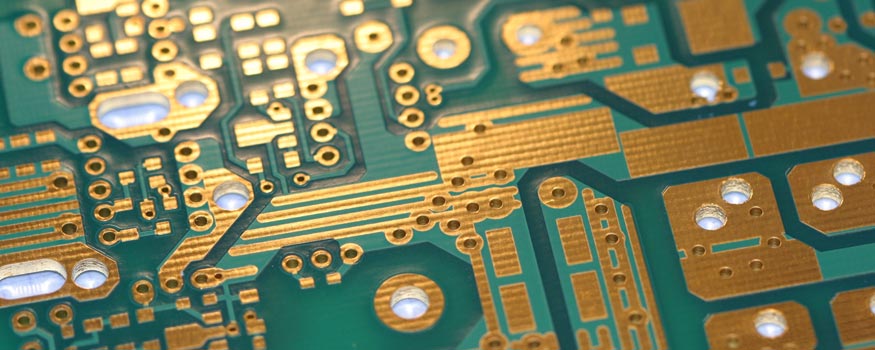 PCB is short for printed circuit board, it is a very important electronic part. Printed circuit boards are widely used in various electronics and they are often the base for devices. And as with every important electronic component, multiple types of circuit boards do exist. But before making a decision on which is right for you, it's important to understand the basics.
In this post, the different types of circuit boards available to you will be covered in detail.
What is a printed circuit board?
Printed circuits boards, also known as PCBs, are the electronic boards used in most electronic devices. The boards both physically and mechanically support the device, as well as connect the electronic components. PCBs are typically made from non-substrate materials with layers of copper circuitry. These layers can range from a single layer all the way up to fifty-plus layers, meaning there is a wide range of PCBs to choose from. PCBs can be found in many electronic devices such as mobile phones, TVs, media equipment, lighting, and even in equipment in the aerospace industry.
What are the types of printed circuit boards?
The following are a few important types of PCBs used today.
1. Single-Layer PCB
2. Double-Layer PCB
3. Multilayer PCB
4. Rigid PCB
5. Flex PCB
6. Rigid-Flex PCB
7. High-Frequency PCB
8. Aluminium-Backed PCB
Single-sided PCBs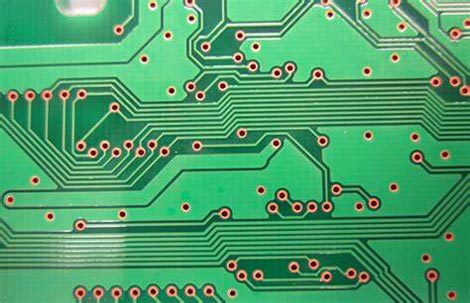 Single-sided PCBs or single-layer PCBs, are essentially circuit boards that consist of only one layer of substrate or base material. These boards are simple and cheap to produce both in small batches and in mass, which is why they are very popular, especially with hobbyists. Single-sided means that the circuitry and the parts and components are placed only on one side of the board, meaning that this type of board is best suited to simple electronics. Although they are relatively cheap and fast to produce, due to the design of it being single-sided, there are limitations to what it can be used for. Read more about: Difference with multilayer PCB
Double-Layer PCB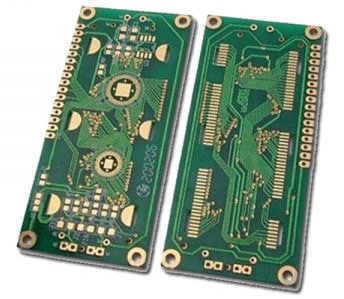 Unlike single-layer, double-layer printed circuit boards have metal conductive layers and components on both sides. In these printed circuit boards, the components are usually surface mounted or connected using a through-hole technique. Double-layered boards are widely used in applications such as vending machines, amplifiers, HVAC systems, automotive dashboards, LED lighting, and more.
Multi-Layer PCB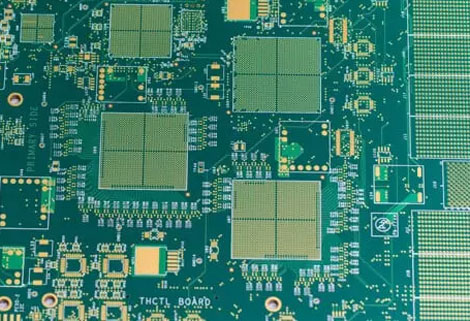 Multilayer PCBs have more than two copper layers. In general, any board featuring at least three conductive layers is included in this category. Multilayer PCBs are designed in a "sandwich" fashion, with several double-sided conductive layers divided by an equal number of insulating material sheets. All of these must be bonded and laminated together under high pressures and temperatures to ensure that no air gaps exist and that the final PCB assembly is properly stable.
Multi-layer PCBs are used in computers, laptops, mobile phones, tablets, medical equipment, GPS trackers, and many other more complex circuits and devices. Read more about: Multilayer printed circuit boards
Rigid PCB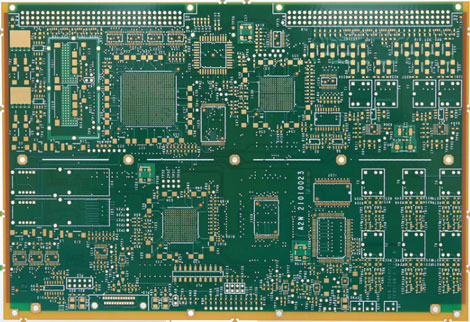 Rigid PCBs are made with solid substrate materials that can help reduce bending and flexing of the board. By making the board solid and immovable, it can help prolong the life of the components as they will be less prone to environmental damages, such as moving and shaking.
A popular application for Rigid PCBs are computer motherboards. These types of boards are commonly used for this application because they generate low electronic noise. This means that the circuit board is designed to reduce the amount of electrical currents running between components and minimize cross talking.
Flex PCB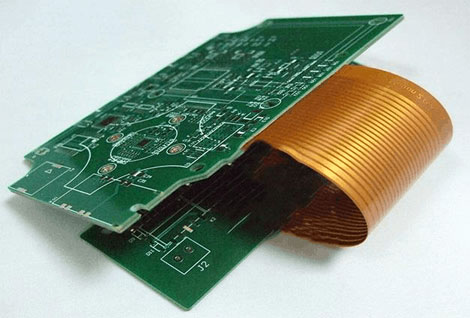 A flexible printed circuit board is made up of many printed circuits and components that are arranged on a flexible substrate. Flexible PCBs are commonly made from polyamide, PEEK (Polyether ether ketone), or a transparent conductive polyester film. Flex circuit boards, flex PCBs, flex circuits, and versatile printed circuits are other names for these circuit boards. These printed circuit boards are made using the same components as rigid printed circuit boards. The main distinction is that the board is designed to flex to the desired form throughout the application. These PCBs are available in single-sided, double-sided, and multilayer configurations. This contributes to a reduction in the complexity of the unit assembly.
Flex PCBs are used in organic light emitting diode (OLED) fabrication, LCD fabrication, flex solar cell, automotive industries, cellular telephones, cameras, and complex electronics products such as laptop computers.
Rigid-Flex PCB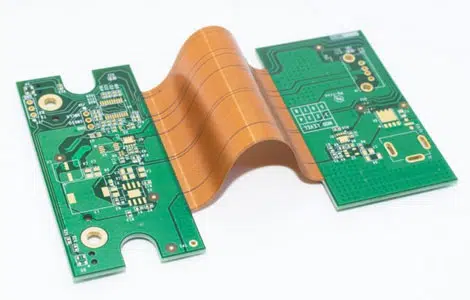 Rigid flex PCB is a hybrid combination of a Rigid PCB and a Flex PCB. Most simple form of a rigid-flex printed circuit board consists of a rigid circuit board joint to a flexible circuit board.
Rigid flex printed circuit board consist of both rigid and flexible substrates that are laminated together to form a single circuit board. Double sided or multilayer Rigid Flex Circuit Boards are interconnected by plated through holes (PTH).
Rigid-flex boards can be designed in a compact manner, and their lightweight nature makes them an excellent option for a wide range of applications in the aerospace, medical, and consumer electronics fields. Read more about: Rigid-flex PCB boards
High-Frequency PCB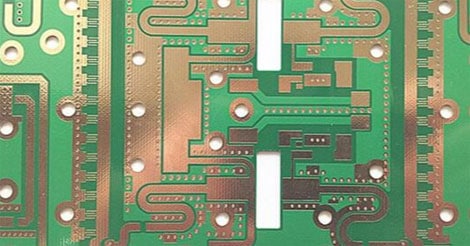 As a special printed circuit board, high-frequency PCB offers a high-frequency range of 500MHz to 2GHz. It provides faster signal flow rates, which is suitable for high-speed designs. It has very high requirements for various physical properties, accuracy, and technical parameters. High-frequency PCB substrate should also have a low water absorption characteristic because high water absorption will cause loss of both dissipation factor and dielectric constant when the board gets damp. High-frequency PCB is often used in collision avoidance systems (CAS), satellite systems, radio systems, mobile applications, etc. Read more about: High frequency PCB
Aluminium-Backed PCB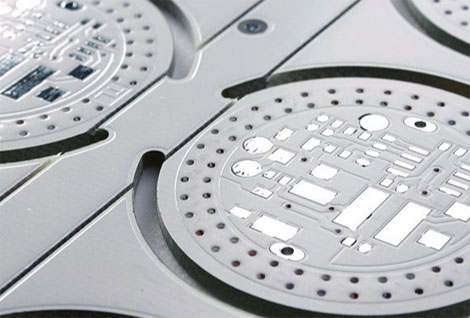 Aluminium-backed PCBs are very similar to their copper-backed counterparts, except instead of using the regular fiberglass material for the board, they use aluminium or copper substrate. Aluminium-backed PCBs provide an array of advantages over the usual fiberglass PCBs, which make them suitable for applications that have high performance requirements.
Aluminum-backed PCBs have many advantages over PCBs with a fiberglass backing, including:
• Low cost. Aluminum is one of the most abundant metals on Earth, making up 8.23% of the planet's weight. Aluminum is easy and inexpensive to mine, which helps to cut expenses in manufacturing process. Thus, building products with aluminum is less expensive.
• Environmentally friendly. Aluminum is non-toxic and easily recyclable. Due to its ease of assembly, manufacturing printed circuit boards out of aluminum is also a good way to conserve energy.
• Heat dissipation. Aluminum is one of the best materials available for dissipating heat away from crucial components of circuit boards. Instead of dispersing the heat out into the rest of the board, it transfers heat out into the open air. Aluminum PCB cools faster than an equivalent-sized copper PCB.
• Material durability. Aluminum is far more durable than materials like fiberglass or ceramic, especially for drop tests. The use of sturdier base materials helps reduce damage during manufacture, shipping and installation.
All of these advantages make Aluminum PCB an excellent choice for applications require high outputs of power within very tight tolerances, including traffic lights, automotive lighting, power supplies, motor controllers and high-current circuitry. Read more about: Multilayer aluminum PCB
Final thoughts
The above-mentioned are a few important types of printed circuit boards available for consideration. When choosing a PCB manufacturer think about cost optimization, adequate material usage, delivery time, and more. Whether you need a simple single-layer PCB or an incredibly complex 30-layer multi-layer PCB, Unitepcb can make your ideas a reality. Please contact us if you need.